Spoiling your man is a concept that is not popular or familiar to many ladies. But let it be known to every lady that men too like to be spoiled.
Men also yearn for affection, underneath that hard man exterior is a heart so soft, that it's yearning for love and affection.
As a woman, it's your responsibility to spoil your man before someone does it for you. Don't be scared spoiling your man doesn't mean you have to break the bank, it's just using your actions to show him how much you care about him. You don't need a special day or time of the year to spoil your man.
I believe the first step to spoiling your man is to know his love language. Different people have different love languages, and discovering that of your man will help you know the specific actions to take that will leave a lasting impression in his heart.
In this article, we will show you various ways to spoil your man that will leave a lasting impression on him.
1. Compliment him:
We can't emphasize this enough, do not underestimate the power of compliments. This has worked for me countless times, you can reduce a hard man to a smiling, blushing mess by just complimenting him. These compliments can range from telling him how handsome he is, to complimenting his haircut, new clothes, his smile, and even his smile.
2. Cook for him:
According to an African proverb it says, the way to a man's heart is definitely through his stomach. It might not be mandatory to always cook for him but try as much as possible to include home-cooked meals at least 3-4 times a week.
Cooking for him doesn't only show him you care, but it helps cut the cost of eating outside. If he has a favorite drink you can make, then add it to the dinner menu.
3. Send him text messages:
Another way to spoil your man is by sending him text messages. You can send him a text message at the beginning of the day when you are not together, or maybe on your lunch break to include him in your daily activities. Make the text short and sweet.
4. Post it or Stick it notes:
Leave little notes around the house for him to find, you can write anything you like, maybe even make it a naughty message. It could also be love notes which you stick to his laptop or shirt Pocket for him to find at work. This will leave him in smiles for the rest of the day. You could write a poem or buy any card that resonates with you and spray his favorite perfume on it. Even just telling him how much you love him.
5. Buy him gifts: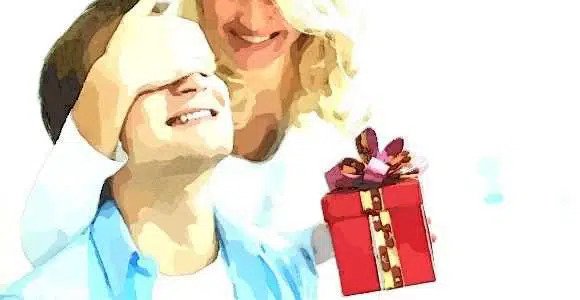 To buy him gifts, you don't need to break the bank, your gift might be small or cheap, but it should be a thoughtful gift, it might not even be something you can buy from the store. An example is a recent post I saw trending on social media, a woman wrote a song for her husband, she couldn't sing, but she poured out her heart and paid someone to turn it into a song, and the man was shedding happy tears. You could do something similar, or if you find something he needs or has run out of like maybe his shaving cream, you could buy him another one. Your gift could also be a painting or picture of him or even the both of you that you like.
6. Plan Surprise date nights:
Sometimes you can surprise your man with date nights. It doesn't necessarily need to be fancy, but if you can do something fancy then go ahead. Your date night could be maybe once a week, but you can spice it up by picking a different day each week. Ideas for low-key date nights include ordering takeout, popcorn, and his favorite movie, or a candle-lit romantic dinner for two at home.
7. Help him relax after a stressful day:
Apart from date nights, you can do something sexy to fire him up after a hectic day at work. Wear something hot like lingerie that will make him forget all the day's stress. You could also find out his fantasies and play them out, spicing up your s3x life. After all, sex is a form of therapy. Make the night a romantic and memorable one for him. Book picnics, a spa day, or even a barbeque night in his honor.
8. Be interested in whatever interests him:
Find out his hobbies and his favorite past times and develop an interest in them. If he is a sportsman, find out his favorite sports and get him tickets to watch live events, if you can't, you can watch whatever game he misses and tell him about it. You can also learn a little about the game, to be able to hold a conversation on it with him. If his favorite pastime is fishing or hiking, develop an interest in them and book vacations to places where he can fish or hike.
9. Be his peace:
There is no better way to spoil your man than to give him peace of mind. Be the ray of sunshine in his life, always smile at him as it brightens his day. Whenever you find him moody or sad, try to make him happy. Don't nag a the time, allow him to have his time to spend out with the boys, and be calm in stressful situations. Be his shoulder to lean on!
10. Take interest in his career/ work life:
Show interest in his work life, celebrate all his wins with him, and help him in any way you can to help him succeed professionally. Always encourage him, in the face of work difficulties.
Other ways to spoil your man include:
Rub his feet or even occasionally give him a full body massage
Constantly tell him how much you love him
Serve him breakfast in bed
Have his favorite snack and drinks in a steady supply
Pack him lunch
Tell him you are proud of him
Spoil him with kisses especially morning kisses
Do his laundry
Plan a romantic getaway for just the both of you
Involve yourself in his day-to-day life
Sponsor romantic outings just for the both of you (it could be a couple of spa day, a hiking trip, a fishing trip, e.t.c)
Learn to play his favorite games and play with him.
Attend a sex workshop together to spice up your sex life t.c
FAQs about spoiling your man
1. How do you spoil your guy for a day?
You can do the following to make your man feel special for a day:
Massage him
Let him have the day to himself
Cook him his favorite meal or make his favorite drink
Buy tickets to his favorite game or a live event
Don't nag him for the day
2. How can I spoil my boyfriend without money?
Spoiling your man or giving him a treat doesn't necessarily need money. These are some of the things you can do to spoil your man:
Serve him breakfast in bed
Massage him
Compliment him, and tell him how much you love him
Let him have the day to himself
Welcome him with a kiss after work
3. How do I spoil my lover?
Below are some ways you can spoil your man:
Buy him gifts
Spend time with him
Show him, constant love
Give him attention
Conclusion
To wrap it up, what works for others might not work for you, figure out what works for you and your man, and work with it. If your man loves PDA gives him an excess of it. No need to overspend to spoil your man, the little things matters a lot. A well-loved man wouldn't stray away from you. I hope this helps you spice up your relationship.
ALSO, READ How To Be Submissive in a Relationship